Our Board
Board members serve for maximum two terms of three years each. The aim is to eventually have a majority of women and young people on the Board. The founding board members are (from left to right: Nirina Kiplagat, Maggie Ainley (alumnus), Lionel Louw (Chair) James Taylor (Associate) Eleanor du Plooy, Nomfundo Walaza, Andries Odendaal, Chris Spies):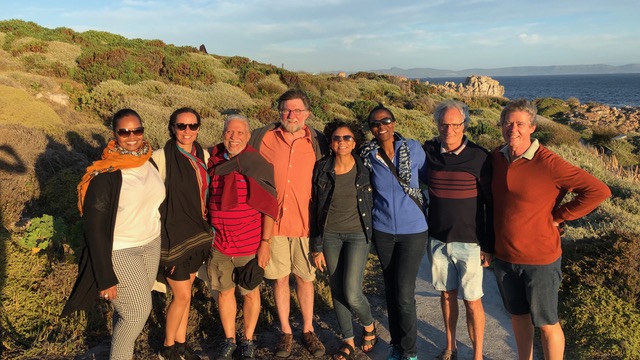 Andrew Ihsaan Gasnolar
is a contributor and writer for The Daily Maverick and has been a contributor for The Huffington Post, and has been published in South Africa's Weekend Argus, Sunday Times, Mail and Guardian as well as The City Press.
Andrew Ihsaan's professional background includes having worked at a top tier pan-African commercial law firm, the professional services environment, the South African party-political environment (on a national level) as well as having worked in the public sector in a senior capacity.
Andrew Ihsaan currently works on public transport and infrastructure projects, with large multinational with a focus of supporting governments to implement solutions that act as a catalyst for development, change and growth, and supporting the public sector and governments to deliver on transport and infrastructure projects.
Andrew Ihsaan has also received recognition for his leadership as a Mandela Rhodes Scholar, World Economic Forum's Global Shaper, Mandela Washington Fellow, Leader of Tomorrow by St Gallen's Symposium (recognised twice), Leader of Today by St Gallen's Symposium, an Africa Leader by Amnesty International and also as an Obama Africa Leader. Furthermore, Andrew Ihsaan has been recognised as a Goalkeeper by the Bill & Melinda Gates Foundation, as well as a SDG Talent by the UNLEASH Innovation Lab focused on finding solutions for achieving the Sustainable Development Goals.
Dr Lionel Louw
is a retired Associate Professor of Social Work from the University of Cape Town. He was a leading member of the United Democratic Front (UDF) which was instrumental in the downfall of the apartheid government. Dr Louw played a key role in the South African Council of Churches in the Western Cape. He was also the chief of staff for the former Western Cape premier Ebrahim Rasool who subsequently became Ambassador to the United States.
Ms Nirina Kiplagat
is a very experienced peacebuilder in the UN system. Nirina is based in Addis Ababa as the UNDP Project Manager, Preventing and Responding to Violent Extremism in Africa She has worked in a number of other internationally and regionally renowned organizations, specializing in the fields of conflict analysis, prevention and peacebuilding. Nirina holds a Masters of Science Degree in Conflict Analysis and Resolution, and has published several articles on thematic issues related to conflict transformation and peacebuilding.
Ms Nomfundo Walaza
is a visionary and compassionate clinical psychologist and human rights activist with 20+ years' experience developing impactful conflict mediation and peacebuilding programmes on a global scale. Nomfundo is a trauma specialist, who has dedicated her life to facilitate and hold spaces for difficult conversations and dialogues. She was until recently the acting CEO of Inyathelo: The South African Institute for Advancement and before that the CEO of the Desmond Tutu Peace Centre and the Trauma Centre for Survivors of Violence and Torture. She assisted students and staff at the University of Cape Town with mediation during the Rhodes/Fees Must fall protests. She obtained her Clinical Masters degree from the University of Cape Town.
Akunna Ethel Onwu
is an avid student of life, a bursting bank of global experiences and a wealth of knowledge eager to make an impact whenever she is presented with the opportunity.
A safer, more educated and more developed African continent is a dream she is insatiably dedicated to realizing. Over the past 6 years, she has contributed towards realizing this dream through her work in compliance, regulatory and legislative affairs and in product development in the largest bank in Africa (by assets) across 18 jurisdictions on the continent.
Akunna is an admitted Advocate and a Certified Integral Coach. Her work as a coach has not only allowed her to empower her clients to achieve what matters most to them, but more importantly it has instilled in her the importance of empathy, collaboration and co-creation.
She is also a vlogger of an inspirational weekly segment entitled Wisdom Wednesdays and writes for The Corporate Canvas, a Careers, Finance and Culture/lifestyle platform for African Millennial.
In short, she is  a melting pot of skills, drive, grit, passion and diversity all of which contribute to her ability to inspire transformation and create positive change through whatever medium, means and opportunity available to her, because at her core is her drive to build; to build people and businesses whose dreams are to improve the lives of others by making the world an easier, kinder, empathetic and more efficient and safer place for everyone.
Mr Chris Spies
is the Founding Director of Dynamic Stability, which is a conflict transformation practice, and the Unyoke Foundation. He has decades of extensive experience as a trainer, facilitator, accompanier and peacebuilder in South Africa and internationally. His passion is to accompany young people so that a viable and strong web of peacebuilders can grow, first in Africa, and then internationally. He is currently part of a team that accompanies young peace leaders in South Sudan, Uganda and South Africa.  Chris and Nomfundo have been co-facilitators of intergenerational dialogues with international and local peacebuilders, including Unyoke Reflective Practice Retreats, since 2012.
Dr Andries Odendaal
has substantive experience in mediation and violence prevention, particularly at the level of local government. He has provided support to national peacebuilding processes across the African continent and elsewhere; and has offered training in conflict resolution to various audiences ranging from grassroots communities to politicians and senior government and security officials. Andries was a Regional Coordinator of the Western Cape Peace Committee and a Senior Trainer and Project Coordinator at the Centre for Conflict Resolution at the University of Cape Town. He is currently freelancing as a conflict transformation expert. As a Jennings Randolph Senior Fellow at the US Institute of Peace he authored A Crucial Link. Local Peace Committees and National Peacebuilding (USIP Press).
Nobukhosi Zulu
a passionate human rights defender who has a deep passion for justice. Professionally trained as a lawyer, Nobukhosi completed her articles of clerkship at Lawyers for Human Rights working in the refugee and migrant rights clinic. Thereafter she was awarded the UCLA Sonke Fellowship where she earned her LLM in Los Angeles graduating with a dual specialisation in International and Comparative Law as well Public Interest Law and Policy.
Upon returning to South Africa she took over the management of the Freedom of Information Program law clinic at the South African History Archive.The work strongly focused on transitional justices, access to information on apartheid era files and the prosecution of apartheid-era crimes. She has published work that focuses on the transitional justice challenges of South Africa.
Nobukhosi currently works in rural KwaZulu-Natal focusing on gender-based violence and strengthening traditional leaders capacity.
Ms Eleanor du Plooy
working for the Institute for Justice and Reconciliation (IJR) in Cape Town as a dialogue practitioner and the Project Leader of the Ashley Kriel Youth Desk. In this capacity she contributes to the creation of an enabling environment for youth development and empowerment via dialogue, research and analysis, training and advocacy with the intention to mainstream youth work in the IJR. She attended Stellenbosch University where she obtained a Master's Degree in Social Anthropology with a focus on Gender and Food Security, and an Honours degree which focused on Language and identity formation processes.
DIANNE WHITING
has over 25 years' experience as a Personal Assistant and Administrator. She has had previous exposure to the NGO environment, such as Inyathelo: The South African Institute for Advancement. She worked closely with Inyathelo's Executive Director, as well as fulfilling her portfolio as the Events Coordinator at Inyathelo.
Previous NGO work included a long tenure at LEAF College of Commerce and Engineering / National Access Consortium Western Cape for almost 10 years, where she served as PA to the Deputy CEO.
She thrives on working with a diverse group of people and contributes her energy and acumen to enhance the effectiveness of the space she finds herself in. Dianne believes that life-long learning is a fundamental part of the course of life and that people, herself included, should grab each opportunity that comes their way.
Associates
There are eleven associates — all experienced peacebuilders and accompaniers:
| | |
| --- | --- |
| 1. Alfred Kibunja | Kenya |
| 2. Celia McKeon | United Kingdom |
| 3. Clever Nyathi | Zimbabwe |
| 4. Deon Snyman | South Africa |
| 5. Elizabeth Solomon | Trinidad and Tobago |
| 6. James Taylor | South Africa |
| | |
| --- | --- |
| 7. Joe Washington | Netherlands/USA |
| 8. Nyambura Mpaayei | Kenya |
| 9. Maggie Ainley | Kenya |
| 10. Philip Visser | South Africa/Indonesia |
| 11. Wilhelm Verwoerd | South Africa |
Generic Unyoke Reflective Practice Retreats in South Africa for national and international peacebuilders. UF is also responding to requests for retreats in other parts of the world and has held retreats in Denmark and Finland.
South Sudan: Chris Spies and Nomfundo Walaza facilitate Unyoke processes with two South Sudanese cohorts of young people. This initiative is a collaborative effort between UF and Humanity United. 
Uganda: UF associates, in collaboration with Oxfam, facilitate Unyoke processes for young South Sudanese peace leaders living in refugee settlements in Uganda.
Growing African Peace Leaders: a sustained initiative to accompany and mentor younger peace leaders, especially women, first in Africa and then globally.
Unyoke facilitators: The first session to increase the pool of Unyoke process faciltators was held in June 2019.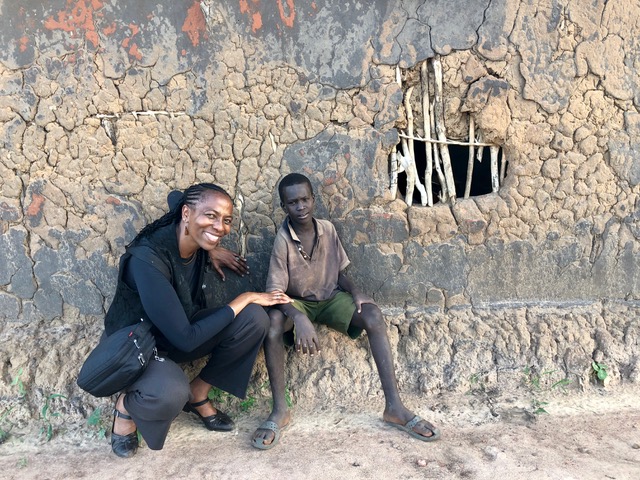 Nomfundo Walaza with a young South Sudanese refugee in Rhino refugee settlement area, Northern Uganda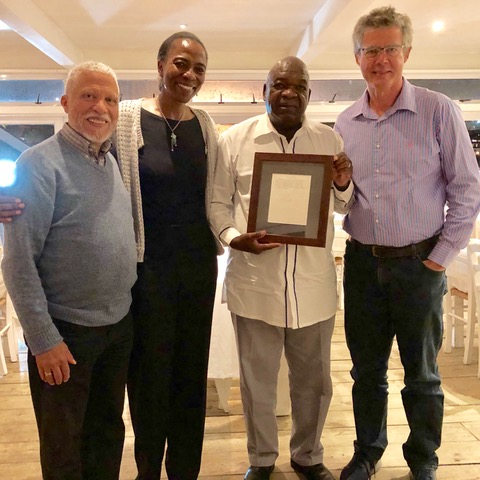 Lionel, Nomfundo, Clever Nyathi and Chris Spies at the awarding of the Waging Peace Award to Clever.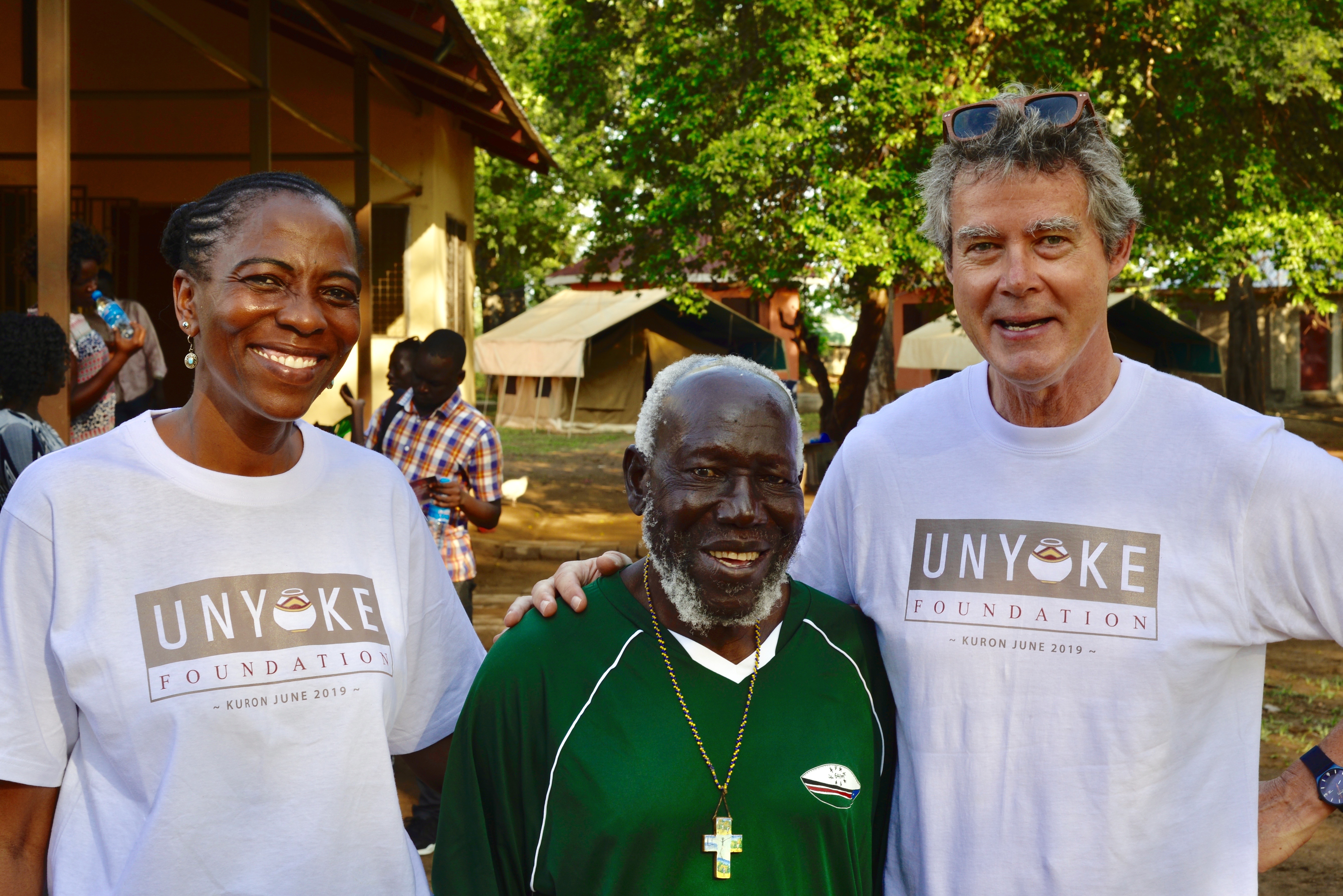 Nomfundo Walaza, Bishop Paride Taban of Kuron Peace Village in South Sudan and Chris Spies
Registration
Unyoke Foundation is a (RF) Non-Profit Company (Number 2017/527862/08) registered in South Africa as a Non-Profit Organisation (Number 202-923 NPO) and Public Benefit Organisation (PBO number 930063074). Unyoke Foundation
The Unyoke Foundation's Equivalency Determination certification is valid through February 28, 2021